As our country continues to address the COVID-19 pandemic, here are some actions and resources for you and your family.

CDC Guidelines for Staying Healthy
The risk of the coronavirus remains low for most Americans, with heightened advisories for elderly populations and individuals with serious underlying health issues. All Americans should take preventative measures just as they would for any respiratory disease:
Avoid close contact with people who are sick
Cover your cough or sneeze with a tissue, then throw the tissue in the trash
Avoid touching your eyes, nose and mouth
Clean and disinfect frequently touched objects and surfaces
Stay home when you are sick, except to get medical care
Wash hands often with soap and water for at least 20 seconds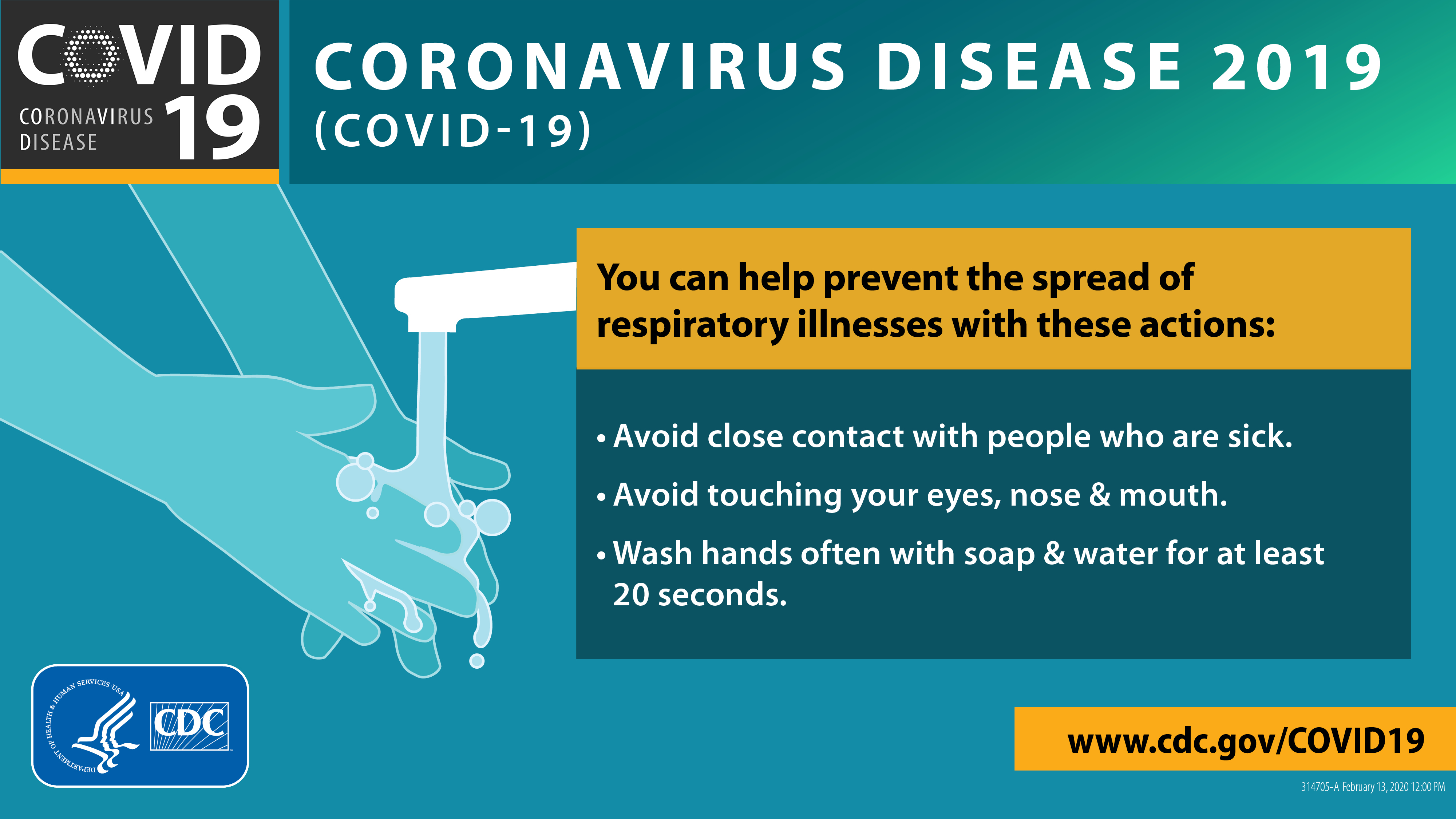 COVID-19 Testing Information for Sedgwick County
Sedgwick County announced a streamlined process for individuals seeking COVID-19 testing.
Residents who have general questions about COVID-19 or if they believe they need to be tested can call their primary care physician or United Way of the Plains at 2-1-1.
Requirements to receive testing have changed. Other testing sites may also be available with fewer restrictions. Your primary care physician or the United Way of the Plains at 2-1-1 can assist with finding the location right for you.
Sedgwick County has also launched a test site locator,
available by clicking here
.
Worker and Family Resources
CARES Act Benefits for Individuals and Families
Direct Cash Payments through the IRS

$1,200 to taxpayers making less than or up to $75,000, $2,400 to couples filing jointly making less than or up to $150,000.
Individual taxpayers making between $75,000-$99,000 and couples making $150,000-$198,000 receive partial benefits. Taxpayers making more than these amounts are not eligible.
Individual taxpayers making between $75,000-$99,000 and couples making $150,000-$198,000 receive partial benefits. Taxpayers making more than these amounts are not eligible.
Social Security beneficiaries will still be eligible for payment even if they do not file taxes, they will receive the benefit automatically based on their Social Security direct deposit or check mailing information.

Retirement Benefits

The 10% early withdrawal penalty from 401K retirement accounts has been waived. A person can withdraw up to $100,000 dollars from their 401K to support themselves if they (1) have been diagnosed with COVID-19 (2) are caring for a spouse or dependent with COVID-19 (3) experienced financial distress due to COVID-19.

Unemployment Benefits

An extra $600 per week of benefits to individuals on top of what they already receive from the state. This boost will last up to four months ending July 31, 2020.
A 13-week extension for unemployment benefits beyond what Kansas provides.
Creates the Pandemic Unemployment Assistance program to expand unemployment eligibility to independent contractors, freelancers, and self-employed to claim unemployment benefits for the duration of the crisis.

Tax Filing Extension and Refund Assurance

The deadline to file taxes has been extended 3 months to July 15, 2020. Tax refunds will still be paid in full to those who qualify.

Insurance Coverage

Private insurance along with Medicare/Medicaid are mandated to provide free coverage for COVID-19 testing, treatment, and vaccine (when vaccine becomes available).

Paid Family Leave Expansion for Individuals

Small Business employees (>500 employees) and government employees are granted 12 weeks of paid family/medical/sick leave. Two weeks of which are at full pay and 10 weeks at ⅔ pay, if they are self-isolating or seeking treatment for COVID-19.
These employees are also eligible for taking the sick leave at ⅔ pay if their child's school or care facility is closed and they need to care for them at home.

Welfare Benefits Expansion

Expanded funding for SNAP, Emergency Food Assistance Program, and Senior Nutrition Program.
Funding for state's school meal programs to ensure that kids who normally get meals at school can receive them at home.
Increased funding for food banks and community food distribution centers to support them during the crisis.
Waives Medicaid work requirements and increases Medicaid funding through 2021.

Education Benefits

Loan and interest payments on federally owned student loans deferred until after September 30, 2020.
Allows for federal work-study program payments to continue while schools are suspended or closed.
Creates the Educational Stabilization fund to allocate $30 billion to support K-12 schools and colleges/universities.
Economic Impact Payments FAQ
Who is eligible to receive a rebate check?

Any person that has a valid Social Security number (SSN), is not considered as a dependent of someone else, and whose adjusted gross income (AGI) does not exceed certain thresholds (see below), is eligible to receive the credit. This means workers, those receiving welfare benefits, Social Security beneficiaries, and others are all eligible.
Spouses of military members are eligible without an SSN.
An adopted child can use an Adoption Tax Identification Number to be eligible.
How much money will those eligible receive?
The full credit amount ($1,200 individuals, $2,400 couples, $500 for children) is available for individuals with AGI at or below $75,000 ($112,500 for heads of household), and couples with AGI at or below $150,000. If you have children, you will receive an additional $500 per child.

Your tax rebate amount will be reduced by $5 for each $100 your AGI exceeds the above thresholds.

This means—
An individual without children will not receive any rebate if their AGI exceeds $99,000,
A couple without children will not receive any rebate if their AGI exceeds $198,000, and
A family of four will not receive any rebate if their AGI exceeds $218,000.
How will the IRS determine who receives a payment and how much that payment will be?
For those that have filed a return with the IRS in 2018 or 2019, the IRS will use the most recent tax return to determine eligibility.

I think the amount of my Economic Impact Payment is incorrect. What can I do?
If you did not receive the full amount to which you believe you are entitled, you will be able to claim the additional amount when you file your 2020 tax return. This is particularly important for individuals who may be entitled to the additional $500 per qualifying child dependent payments. We encourage people to review the IRS' "How do I calculate my EIP Payment" document.

Do rebate checks need to be repaid?
Unless obtained by fraud, rebate checks do not need to be repaid. If an individual experienced an income loss in 2020 or if they have an increase in family size, they may be able to claim an additional credit of the difference when the individual files their 2020 tax federal income tax return in Spring of 2021.

The IRS does not have my direct deposit information. What can I do?
The deadline to submit direct deposit information has passed. If you are eligible, you will receive a check in the mail.

Can you receive a rebate check if you are claimed as a dependent on another taxpayer's tax return?
Someone who is claimed as a dependent on another taxpayer's tax return is not eligible to receive the $1,200 refund check themselves.

Can you receive a $500 child credit for a dependent claimed on your tax return if that child is 17 or older?
No. Children 17 and older are not eligible for the $500 per child tax credit.

Are non-tax filers eligible to receive a rebate check?
For those with taxable income, you will need to file a tax return for the 2019 tax year, which you can do until July 15. Those with little or no taxable income are encouraged to use the IRS' Free File Program which can be viewed here.

Other than Social Security beneficiaries (retirement and disability), individuals with no taxable income can file a simple form provided by the IRS specifically for the purpose of receiving the rebate check. The IRS's simple form is here and includes more information.

How can Social Security beneficiaries who are not typically required to file a tax return receive a rebate check?
Social Security retirement and disability beneficiaries do not need to file to receive their rebate. The IRS has worked directly with the Social Security Administration to obtain information needed to send out the rebate checks the same way Social Security benefits are paid.

How can non-tax filers receive a rebate check?
Individuals can use the simple form provided on IRS.gov here or can also use the forms available from private sector tax preparers via the IRS Free File Program, which is accessible here. Additionally, some private sector tax preparers are providing the simple form for free through their regular commercial products.

Will someone who is homeless be eligible for a rebate check? If so, how/where will the IRS direct the payment?
The Treasury Department is aware of the challenges reaching some citizens, such as those that are homeless, and they are working on solutions to ensure that everyone eligible is able to obtain a rebate check. We await formal guidance from Treasury on how they will go about this as well.

Does someone who has died qualify for the Payment?
No. A Payment made to someone who died before receipt of the Payment should be returned to the IRS by following the instructions in the Q&A about repayments. Return the entire Payment unless the Payment was made to joint filers and one spouse had not died before receipt of the Payment, in which case, you only need to return the portion of the Payment made on account of the decedent. This amount will be $1,200 unless adjusted gross income exceeded $150,000.

What should I do to return an Economic Impact Payment (EIP)?
You should return the payment as described below.

If the payment was a paper check:

Write "Void" in the endorsement section on the back of the check.
Mail the voided Treasury check immediately to the appropriate IRS location listed below.
Don't staple, bend, or paper clip the check.
Include a note stating the reason for returning the check.
If the payment was a paper check and you have cashed it, or if the payment was a direct deposit:

Submit a personal check, money order, etc., immediately to the appropriate IRS location listed below.
Write on the check/money order made payable to "U.S. Treasury" and write 2020EIP, and the taxpayer identification number (social security number, or individual taxpayer identification number) of the recipient of the check.
Include a brief explanation of the reason for returning the EIP.
For your paper check, here are the IRS mailing addresses to use based on the state:

If you live in Kansas, please send the paper check to:

Atlanta Internal Revenue Service
4800 Buford Hwy
Chamblee, GA 30341

Are the rebate checks considered taxable income?
The credit is not taxable, consistent with other refundable tax credits.

Will the rebate check affect my eligibility for federal programs, like Supplemental Security Income?
No, the rebate is considered a tax refund and is not counted towards eligibility for federal programs for both income or asset test purposes.

Could my rebate check be offset by any outstanding money owed to the government?
The rebate checks are not subject to the majority of offsets, including student debt and state debts. The only administrative offset that will be enforced applies to those who have past due child support payments that the states have reported to the Treasury Department.

Can families with children born in 2019 or 2020 receive the $500 child credit?
Yes, but action is required.

A family with a child born in 2019 is eligible for the $500 per child rebate amount (assuming all other requirements are satisfied). If the family has not yet filed a 2019 tax return, the IRS will determine the family's rebate amount based on their 2018 tax return filing. As a result, the family will not automatically receive the $500 rebate amount for the child born in 2019. To receive the credit the family can either:
Claim the $500 credit on their 2020 tax return filing made in 2021, or
File their 2019 tax return quickly with the child's SSN and receive the $500 in the rebate check sooner.

Likewise, a family with a child born in 2020 is eligible for the $500 per child rebate amount. The family will be able to claim the $500 credit on their 2020 tax returns filed in 2021.
Small Business Resources
Non-Paycheck Protection Program (PPP) Options for Businesses
Employee Retention Credit
Refundable tax credit against certain employment taxes equal to 50% of the qualified wages an eligible employer pays to employees after March 12, 2020, and before January 1, 2021.

Qualified wages are capped at 10,000 per employee (i.e. max tax credit is $5000 per employee).
Qualified wages also include certain employee health coverage expenses as well.

Employers that operate a trade or business during calendar year 2020 are eligible for the tax credit if:

The full or partial suspension of the operation of their trade or business during any calendar quarter because of governmental orders limiting commerce, travel, or group meetings due to COVID-19, or a significant decline in gross receipts;
A significant decline in gross receipts on the first day of the first calendar quarter in 2020 a business has a 50% or greater loss in gross receipts compared to 2019;
The significant decline in gross receipts ends when on the first day of the first calendar quarter following the calendar quarter in which gross receipts are more than of 80% of its gross receipts for the same calendar quarter in 2019;
They have not taken a PPP loan (if eligible).

Employers with greater than an average of 100 full-time employees can claim the tax credit for qualified wages of employees not providing services because of COVID-19. These employers can only count wages up to the amount that the employee would have been paid for working an equivalent duration during the 30 days immediately preceding the period of economic hardship.
Employers with less than an average of 100 full-time employees can claim the wages of all employees regardless of whether or not its employees are providing service during the economic hardship.
The ERTC reduces the after-tax cost of compensating an employee. Because employees cost less, firms are presumably willing to pay for more hours and retain more employees than they would absent the credit. When businesses keep individuals employed these individuals continue to earn income, reducing unemployment compensation expenditures and helping to maintain individuals' incomes.
In order to claim the new Employee Retention Credit, eligible employers will report their total qualified wages and the related health insurance costs for each quarter on their quarterly employment tax returns, which will be Form 941 for most employers, beginning with the second quarter. The credit is taken against the employer's share of social security tax but the excess is refundable under normal procedures.
Employer Retention Tax Credit: Stylized Example

Employer: Retail establishment ordered shut down as a nonessential retail business on March 20, 2020; establishment had 10 full-time employees in 2019 and still had 10 full-time employees in 2020. On March 20, 2020, employer laid off five employees; five employees continue to be paid.
Wages: Between March 20, 2020, and March 31, 2020, each retained employee receives $1,500 in wages
Payroll Tax Credit: Payroll credit for this business is calculated as $1,500 (Wage per employee) × 50% × 5 (Employees still on payroll)= $3,750
The business paid $7,500 in wages between March 20 and March 31, and it can claim a payroll tax credit of $3,750. As a small employer, all wages paid are eligible for the tax credit, regardless of whether services were provided.
The tax credit computed here reduces the employer's employment taxes. Assume that this employer had paid $9,750 in employer payroll taxes during the first quarter (January to March) of 2020. This employer would be able receive a $3,750 credit against their first quarter 2020 payroll taxes. If the business continues to be shut down in the second quarter, the employer may be able to claim additional tax credits.
Federal Reserve Main Street Lending Program
Main Street Lending Program was designed to support lending to small and medium-sized businesses that were in good financial standing before the onset of the COVID-19 pandemic.
The program will commit to lend on a recourse basis to a single common special purpose vehicle (SPV). The SPV will purchase 95% participations in eligible loans from eligible lenders. Eligible lenders would retain 5 percent of each eligible loan.
U.S. businesses are eligible for loans if they meet either of the following conditions: (1) the business has 10,000 employees or fewer; or (2) the business had 2019 revenues of $2.5 billion or less.
Loans would have a four year maturity, and principal and interest payments on the loans will be deferred for one year.
Minimum loan size of $1 million, maximum of lesser of (i) $25 million or (ii) an amount that, when added to the Eligible Borrower's existing outstanding and committed but undrawn debt, does not exceed four times the Eligible Borrower's 2019 earnings before interest, taxes, depreciation, and amortization.
Net Operating Loss Carry Back
When a firm has a loss (a net operating loss, or NOL), taxes are not reduced immediately beyond zero. Rather, the business owes no income tax in that tax year and the loss can be carried forward indefinitely. In subsequent years, the NOL can be used to reduce up to 80% of taxable income, reducing taxes in the future.
The Coronavirus Aid, Relief, and Economic Security (CARES) Act included a provision increasing tax benefits for NOLs.
The CARES Act allows firms to carry back losses in tax years beginning after December 31, 2017, and before January 1, 2021 (for calendar year firms, covering 2018, 2019, and 2020) for up to five years. NOLs carried back can also offset 100% of taxable income—an increase from the 80% offset under permanent law.
The CARES Act also suspended for 2018-2020 the provision that limited the amount of NOLs that individuals could use to offset other income.
More generous NOL rules are to increase liquidity and cash flow and make it easier for businesses that benefit to survive the economic disruption caused by the pandemic.
The IRS has issued guidance on how businesses can elect to carry over the losses in a recently published guidance.
CARES Act Benefits for Small Businesses
Paycheck Protection Loan Program

Small Business Administration (SBA) backed loans to help small businesses cover up to 8 weeks of payroll with a short-term loan. If the business can maintain its full payroll from February 15- June 30, 2020, the loan will be fully forgiven.

Economic Injury Disaster Loans (EIDL)

Short term loans designed to cover expenses to businesses experiencing a loss in revenue due to the national emergency. Small businesses are eligible for both this loan and a Paycheck Protection Loan as long as the EIDL covers a different business expense.

SBA Debt Relief

SBA will pay the principal and interest on new 7(a) loans issued before September 27, 2020.
SBA will also pay the principal and interest on existing 7(a) loans for six months.

Small Business Contracting Guarantees

The federal government will continue its current contractual obligations to small businesses during the national emergency.

Paid Family Leave Tax Credit

To cover the cost of the paid family/medical/sick leave mandate, small and midsize businesses are eligible for a 100% tax credit on the costs of providing it.

Entrepreneurial Development Programs

Funding and grants to programs for providing training, counseling, and assistance for small businesses, with a focus on minority-owned and new businesses.
Paycheck Protection Program for Churches
Many church leaders have been curious about whether they qualify for the Paycheck Protection Program. Below are answers to some common questions.
Who is eligible for the SBA Paycheck Protection Program?
All churches are eligible for the forgivable loans available under the Paycheck Protection Program.
Do you need to file a Form 990?
No church should have to file a Form 990.
What box do you check on the SBA Application Form 2483?
Churches should check the "501(c)(3) nonprofit" box in the top left corner of the form.
You do not need to have any formal recognition from the IRS in order to be considered a 501(c)(3) entity. You do not need a determination letter from the IRS.
Why should I check the "501(c)(3) nonprofit" box?
You are automatically recognized as a 501(c)(3) organization as long as you are organized and operated exclusively for the exempt purposes outlined in section 501(c)(3).
To qualify for tax-exempt status, the organization must meet the following requirements:

the organization must be organized and operated exclusively for religious, educational, scientific or other charitable purposes;
net earnings may not inure to the benefit of any private individual or shareholder;
no substantial part of its activity may be attempting to influence legislation;
the organization may not intervene in political campaigns; and
the organization's purposes and activities may not be illegal or violate fundamental public policy.

For more information: https://www.irs.gov/pub/irs-pdf/p1828.pdf
Ag Producer Benefits, Programs and Other Ag-related Provisions
Kansas farmers and ranchers are the backbone of our economy, and their work is essential to keep the food supply chain moving. Here are some programs and resources for ag producers during this pandemic.
USDA Coronavirus Food Assistance Program and Farmers to Families Food Box
Due to unprecedented circumstances, the USDA created the Coronavirus Food Assistance Program (CFAP) to distribute $19 million in funding to support agriculture producers and improve the American food supply chain. USDA is now accepting applications through Aug. 28, 2020.

You can also learn more about the Farmers to Families Food Box program here.

Small Business Administration Loans
Farms and other agricultural employers can start applying for grants and low-interest, long-term loans through the Small Business Administration's Economic Injury Disaster Loan program.

Agribusinesses are eligible for grants of up to $10,000 under the EIDL Advance program and loans up to $2 million under the EIDL program.

Business and Industry CARES Act Program
USDA announced $1 billion in loan guarantees to help ag businesses meet the American supply chain needs through the Business and Industry CARES Act Program, extending loan eligibility and CARES Act funding to more ag producers in rural areas.

Business and Industry CARES Act Program loans will be used as working capital to prevent, prepare for, or respond to the effects of the coronavirus pandemic. These loans must be used to support rural businesses, including agricultural producers, that were in operation on Feb. 15, 2020.

USDA will begin accepting these loan guarantee applications May 22, 2020. Applications must be received by Sept. 15, 2021, or until funds are expended. Program funding expires Sept. 30, 2021.
Learn more from USDA here.
Commodity Corporation Credit (CCC)
As part of the CARES Act, the USDA received $14 billion to replenish the Commodity Corporation Credit. This funding is intended to support agricultural producers through price and trade changes and American producers are expected to receive funds by July.
USDA Commodity Purchases
USDA's Agricultural Marketing Service, through its Section 32 authority, will use customs receipts to purchase $470 million in goods from American farmers.

These surplus products will be redistributed to food banks, school feeding programs and other efforts to help hungry Americans.
Higher Blends Infrastructure Incentive Program (HIIP)
Recently, the USDA announced $100 million dollar grant available in competitive grants for activities that are designed to expand the availability and sale of renewable fuels under Higher Blends Infrastructure Incentive Program (HIPP).

Rep. Estes also joined his colleagues on a letter to USDA Secretary Sonny Purdue requesting that the HBIIP program make changes to relieve regulatory burdens on this industry.
Rural Broadband
The USDA recently announced over $71 million in grants to fund rural broadband projects through the Broadband ReConnect Program. Over $18 million of this funding will go towards improving broadband infrastructure in Chautauqua County.

Defense Production Act
On April 28, President Trump signed an executive order to use the Defense Production Act to stabilize the United States' food supply chain.

The White House sent a letter to meatpackers to assist them with guidelines on reopening their plants. These facilities are required to follow CDC and OSHA guidelines, and submit protocols and plans moving forward to protect employees.
Health and Family Resources
Student, Parent and Educator Resources
Scam Alerts
Unfortunately, nefarious characters use times of crisis to prey and profit on our fellow neighbors. I want to make sure you are aware of several scams happening right now.

No one from the government will be calling, emailing or texting you for personal information – such as bank information or Social Security number – to receive the Economic Impact Payment.
There are no agencies or organizations that can help you receive the Economic Impact Payment faster by working on the taxpayer's behalf.
If you receive something in the mail that looks like a check but requires you to verify information online or over the phone to cash it, it's a bogus check and not from the government.
The Department of Homeland Security is not mobilizing the National Guard to enforce a national quarantine. Letters urging citizens to stock up on supplies and that an announcement is coming soon are false. The National Guard may be seen working in communities to help support COVID-19 responses through warehouse operations, commodity distribution, planning, access control, mailroom support, and staffing the State Emergency Operations Center with interagency partners.
These scams are despicable. I encourage you to use Kansas common sense when it comes to reviewing information online, in print, on TV and over the phone. These scammers are preying on fear, but the best way to defeat them is by not falling for their pathetic tactics.
Federal Assistance for the State of Kansas and Kansas Residents
The Trump administration, Congress and federal agencies are continuing to provide relief and assistance for Kansas workers, families, small businesses and government entities. View this document to see what assistance has already been awarded to Kansas.
COVID-19 Symptoms
People with COVID-19 have had a wide range of symptoms reported – ranging from mild symptoms to severe illness.

These symptoms may appear 2-14 days after exposure to the virus:

Fever or chills
Cough
Shortness of breath or difficulty breathing
Fatigue
Muscle or body aches
Headache
New loss of taste or smell
Sore throat
Congestion or runny nose
Nausea or vomiting
Diarrhea
This list does not include all possible symptoms. CDC will continue to update
this list
as we learn more about COVID-19.
See the symptoms page on CDC.gov for more information.
FAQ
Legislation
Paycheck Protection Program and Health Care Enhancement Act:
The supplemental funding package was signed into law April 24, 2020.
Additional $310 billion for the Paycheck Protection Program.

$30 billion for loans made by Insured Depository Institutions and Credit Unions that have assets between $10 billion and $50 billion.
$30 billion for loans made by Community Financial Institutions, Small Insured Depository Institutions, and Credit Unions with assets less than $10 billion.

Allows agricultural enterprises as defined by section 18(b) of the Small Business Act (15 U.S.C. 647(b)) with not more than 500 employees to receive EIDL grants and loans.
$75 billion for reimbursement to hospitals and healthcare providers to support the need for COVID-19 related expenses and lost revenue. Language remains the same as CARES Act. This funding is in addition to the $100 billion provided in the CARES Act.

$25 billion for necessary expenses to research, develop, validate, manufacture, purchase, administer, and expand capacity for COVID-19 tests.

Phase Three – Coronavirus Aid, Relief, and Economic Security (CARES) Act:
The third response package was signed into law March 27, 2020.
The measures contained in the CARES Act are designed to stabilize our economy and protect families in this uncertain time.
$250 billion for the purposes of expanded access to unemployment benefits.

Provides additional $600/week payment to each Unemployment Insurance (UI) or Pandemic Unemployment Assistance recipient for four months beginning April 1 through July 31, 2020.
Creates a new Pandemic Unemployment Assistance program to help those not traditionally eligible for UI, such as self-employed and independent contractors, like gig workers and Uber drivers, as well as those who are unable to work or telework as a result of the coronavirus public health emergency.

Provide grants and loans to small businesses to meet payroll and pay rent.

The bill creates a "paycheck protection program" for small employers, self-employed individuals, and "gig economy" workers, with $350 billion to help prevent workers from losing their jobs and small businesses from going under due to economic losses caused by the COVID-19 pandemic.
The "Paycheck Protection Program" would provide 8 weeks of cash-flow assistance through 100 percent federally guaranteed loans to small employers who maintain their payroll during this emergency.
If the employer maintains payroll, the portion of the loans used for covered payroll costs, interest on mortgage obligations, rent, and utilities would be forgiven, which would help workers to remain employed and affected small businesses and our economy to recover quickly from this crisis.
This proposal would be retroactive to February 15, 2020, to help bring workers who may have already been laid off back onto payrolls.

Send direct checks to eligible Americans of up to $1,200 per person and $500 per child.
$100 Billion in direct grants to hospitals struggling with immediate cash flow short falls.

Kansas hospitals will receive an estimated total of $1.15 billion, but we are awaiting guidance from HHS to know that full and final allocation.

Allow regulatory relief so banks can grant loan forbearance for otherwise healthy businesses struggling while business has been shut down.
Provide Treasury and the Fed the ability to provide several trillion dollars in assistance to distressed industries, including airlines, through guaranteed loans while also including strong accountability protections.
$9.5 billion to the Secretary of Agriculture to "prevent, prepare for, and respond to coronavirus by providing support for agricultural producers including producers of specialty crops, producers that supply local food systems, including farmers markets, restaurants, and schools, and livestock producers, including dairy producers." The funding is not limited to specific agricultural crops or producers.
$14 billion for replenishment of the Commodity Credit Corporation (CCC).
Rush resources to hospitals, doctors and other front-line providers.
Expand the use of telehealth medicine to surge capacity to diagnose and treat patients in a safer and faster environment.

Federally Qualified Health Centers and Rural Health Clinics are approved to furnish telehealth services to beneficiaries in their home or other setting. Medicare would reimburse for these services at a composite rate similar to payment provided for comparable telehealth services under the Medicare Physician Fee Schedule.

Hospitals will receive an increased payment that would otherwise be made to a hospital for treating a patient admitted with COVID-19 by 20%. This add-on payment would be available through the duration of the COVID-19 emergency period.
The CARES Act includes a total of $150 billion in funds to be used for State fiscal relief. There is flexibility on how these funds may be used.

Of the $150 billion, Kansas will be allocated $1.25 billion.
These funds will provide immediate relief to the State and will allow the State to act quickly to address its most immediate needs.
Phase Two – Families First Coronavirus Response Act:
The second response package was signed into law March 18, 2020.
Included in the second supplemental funding package were the following resources. These resources have not yet been noticed for direct grants but will have significant impact and benefit to the state.
$1.2 billion to help cover the costs of testing, including $142 million to directly help our service members and veterans.
Provided a temporary increase in the federal share of Medicaid spending.

The required coverage of testing for Medicaid patients will result in an increased financial burden on states the federal government is increasing the federal share. The second package provided states with a 6.2% Medicaid FMAP increase for all medical services for the duration of the public health emergency.
This increase will result in a preliminary rough estimate of $220 million increase in payments to Kansas from January 1, 2020 to December 31, 2020. This is contingent upon the National emergency lasting through the remainder of the calendar year.

$1 billion into the Public Health and Social Services Emergency Fund for the National Disaster Medical System to pay provider claims for testing and services related to testing for uninsured individuals.

The federal government will be taking on the costs associated with treating the uninsured in an effort to remove an additional burden from states.

$1 billion for emergency administrative grants to state unemployment agencies that can be used to help with spike in claims, processing and applications. The funds are separated into two allotments. The first is immediately available, the 2nd allotment is available to a state that experiences a 10% increase in claims from the previous quarter.

Kansas will receive a total of $9.5 million.
Phase One – Coronavirus Preparedness and Response Supplemental Appropriations Act:
The first response package was signed into law March 6, 2020.

The first package included $4 billion to increase testing capabilities; and to support treatments to ease the symptoms of those infected with the virus.
As part of this Kansas received a $5.9 million grant. This grant is intended to help build the state's capacity to increase testing and treatment for those diagnosed with COVID-19. This grant was also intended to help provide states with funds to purchase the needed personal protective equipment (PPE) to ensure that health care workers are safe.
Other Actions
The president declared a national emergency on March 13, allowing states to access more than $42 billion in existing funding to combat the coronavirus, giving the Small Business Administration authority to make more than $7 billion in loans, waiving interest on all student loans held by the federal government, allowing HHS to waive regulations to give maximum flexibility to healthcare providers, and accelerating testing.

The CDC announced that they've awarded $560 million to state and local jurisdictions, including $5.9 million for Kansas.
The IRS announced that they have removed barriers to allow high-deductible health plans to pay for COVID-19 testing and treatment, without jeopardizing their status.
Multiple private insurers are looking to cover the full costs of testing.
There is federal funding going to develop new vaccines and treatments, though we don't expect to see a vaccine for this virus until next year.
The administration is working on producing tests and ensuring that all states are able to test for COVID-19.
Knowing that the coronavirus is particularly harmful to vulnerable populations, CMS has instructed nursing home surveyors to prioritize the review of nursing homes' capabilities to prevent the spread of infection and address any infection outbreak. They additionally issued new guidance on visitation policies to ensure that exposure to infectious diseases is mitigated.
As various schools, colleges, universities and businesses move to e-learning and telework, I'll be working with my colleagues to ensure that broadband access – especially during this critical time – is part of the conversation.
Many local and national businesses are also stepping forward to make sure their customers are safe – whether that's through routine cleanliness, changing or reinforcing cancelation or transfer policies, or encouraging ways to be healthy.
The administration is clamping down on false claims of cures for the coronavirus. This will put an end to those preying on fears and trying to capitalize on the threat of COVID-19.
Our office has reached out to all 17 county health departments in our District to discuss their preparedness and procedures. The counties have responded and we are working to make sure that any lapses are addressed. They also indicated that the information and planning from the CDC have been timely.
Learn more about COVID-19 legislation and other federal responses on the House Ways and Means coronavirus FAQ page.