As our country continues to address the COVID-19 pandemic, here are some actions and resources for you and your family. I want to make sure you are informed as we tackle this manageable situation.



15 Days to Slow the Spread:


On March 16, the White House and the Coronavirus Task Force issued new guidelines for all Americans to slow the spread in 15 days. You can view them below and download here.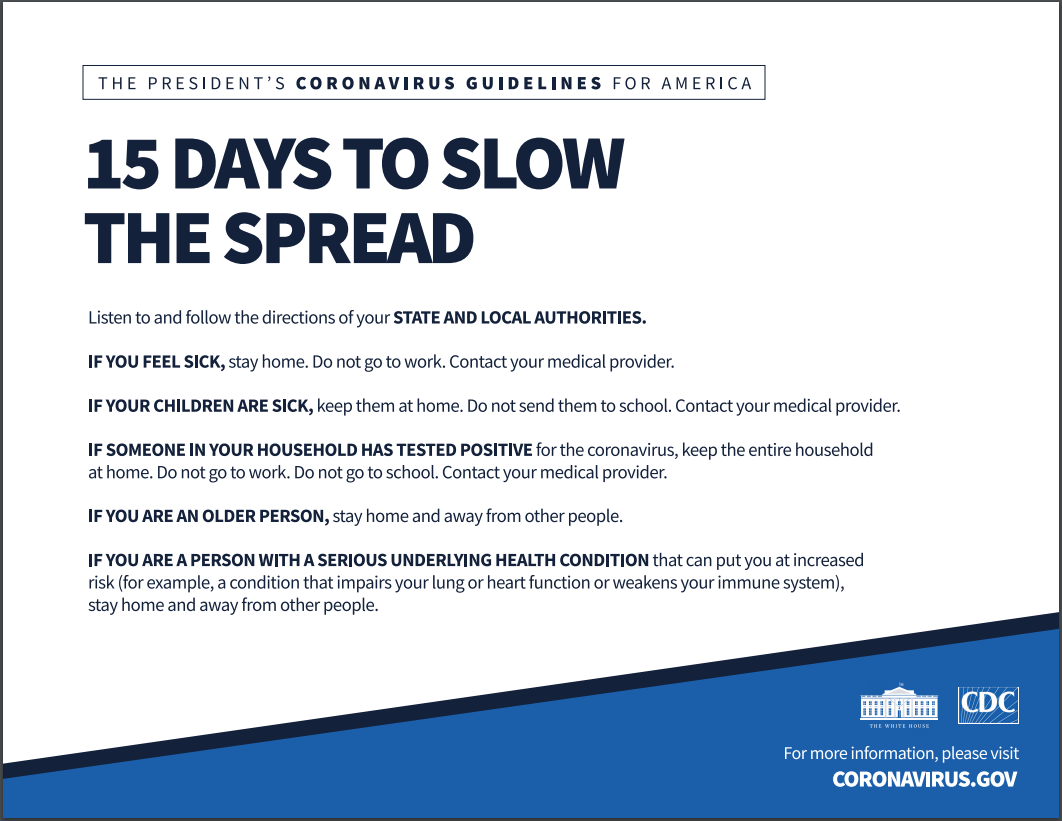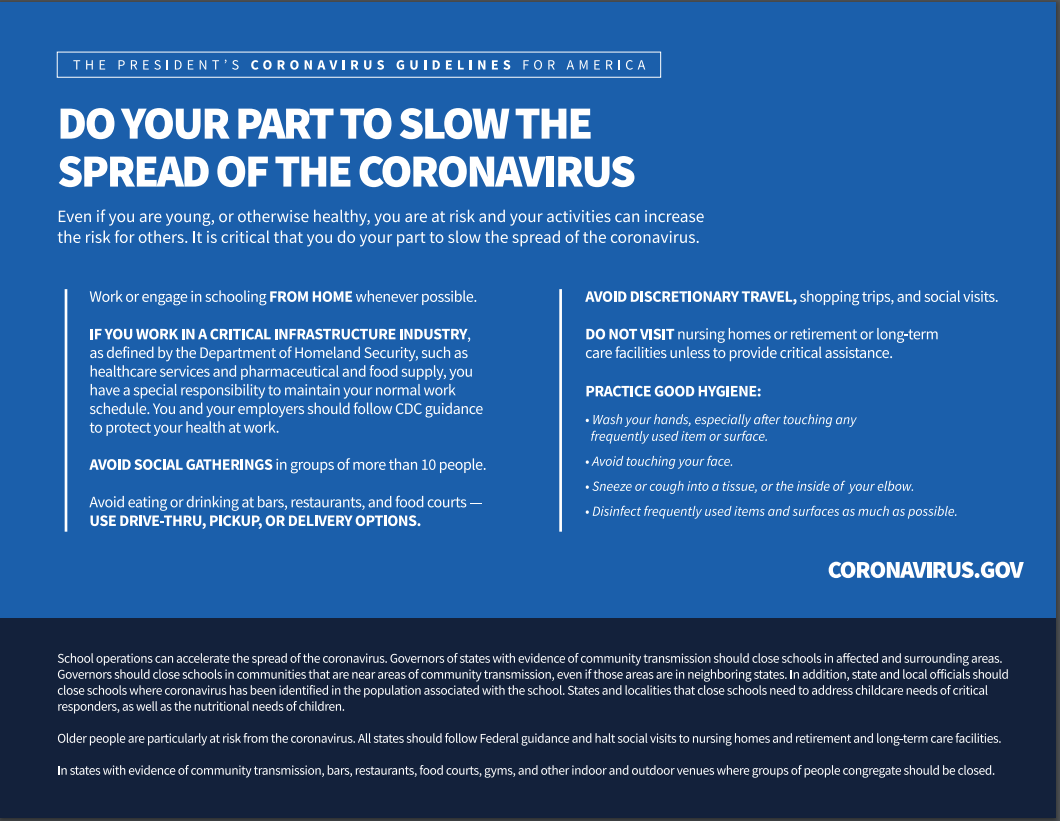 Actions:
In Congress, we passed a bill to give $8 billion in emergency funding that will go to the CDC and other departments. President Trump has already signed this bill, and I look forward to working with his administration to ensure rural areas are getting enough funding.
The president declared a national emergency on March 13, allowing states to access more than $42 billion in existing funding to combat the coronavirus, giving the Small Business Administration authority to make more than $7 billion in loans, waiving interest on all student loans held by the federal government, allowing HHS to waive regulations to give maximum flexibility to healthcare providers, and accelerating testing.
On March 18, President Trump signed the bipartisan Families First Coronavirus Response Act into law. This legislation provides workers and families stability, assists small businesses, and increases access to free COVID-19 testing.
The CDC announced that they've awarded $560 million to state and local jurisdictions, including $5.9 million for Kansas.
The IRS announced that they have removed barriers to allow high-deductible health plans to pay for COVID-19 testing and treatment, without jeopardizing their status.
Multiple private insurers are looking to cover the full costs of testing.
There is federal funding going to develop new vaccines and treatments, though we don't expect to see a vaccine for this virus until next year.
The administration is working on producing tests and ensuring that all states are able to test for COVID-19.
Knowing that the coronavirus is particularly harmful to vulnerable populations, CMS has instructed nursing home surveyors to prioritize the review of nursing homes' capabilities to prevent the spread of infection and address any infection outbreak. They additionally issued new guidance on visitation policies to ensure that exposure to infectious diseases is mitigated.
As various schools, colleges, universities and businesses move to e-learning and telework, I'll be working with my colleagues to ensure that broadband access – especially during this critical time – is part of the conversation.
Many local and national businesses are also stepping forward to make sure their customers are safe – whether that's through routine cleanliness, changing or reinforcing cancelation or transfer policies, or encouraging ways to be healthy.
The administration is clamping down on false claims of cures for the coronavirus. This will put an end to those preying on fears and trying to capitalize on the threat of COVID-19.
Our office has reached out to all 17 county health departments in our District to discuss their preparedness and procedures. The counties have responded and we are working to make sure that any lapses are addressed. They also indicated that the information and planning from the CDC have been timely.
Learn more about COVID-19 legislation and other federal responses on the House Ways and Means coronavirus FAQ page.
CDC Guidelines for Staying Health:


The risk of the coronavirus remains low for most Americans, with heightened advisories for elderly populations and individuals with serious underlying health issues. All Americans should take preventative measures just as they would for any respiratory disease:

Avoid close contact with people who are sick
Cover your cough or sneeze with a tissue, then throw the tissue in the trash
Avoid touching your eyes, nose and mouth
Clean and disinfect frequently touched objects and surfaces
Stay home when you are sick, except to get medical care
Wash hands often with soap and water for at least 20 seconds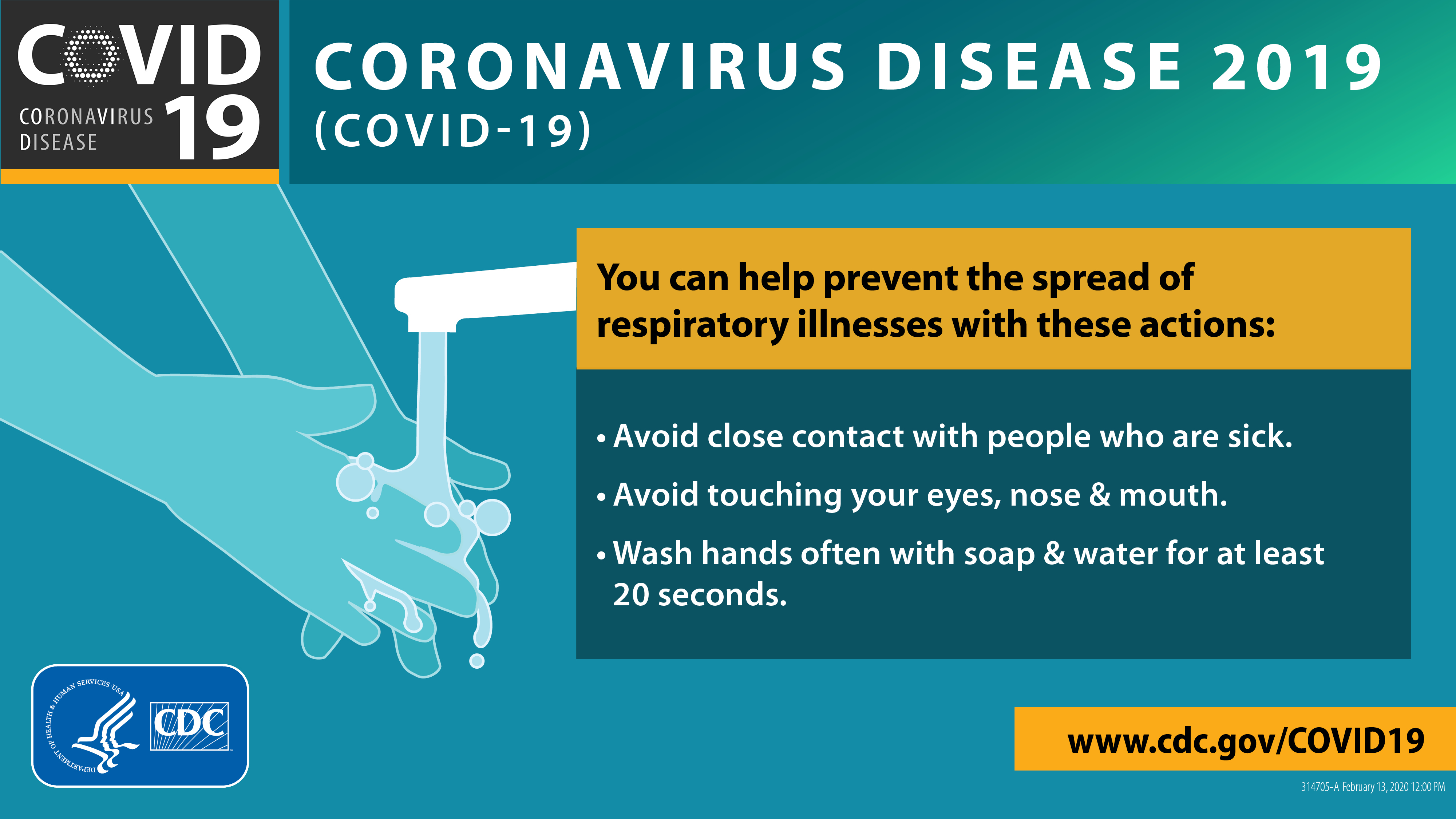 Health and Government Resources:


Centers for Disease Control and Prevention (CDC)
Kansas Department of Health and Environment (KDHE)
Kansas Department of Labor
IRS
Small Business Administration (SBA)
U.S. Department of Labor
Veterans Affairs
County Health Departments:
Edwards County Health Department: 620-659-3102
Online Resources for Students, Parents and Educators:
COVID-19 Symptoms: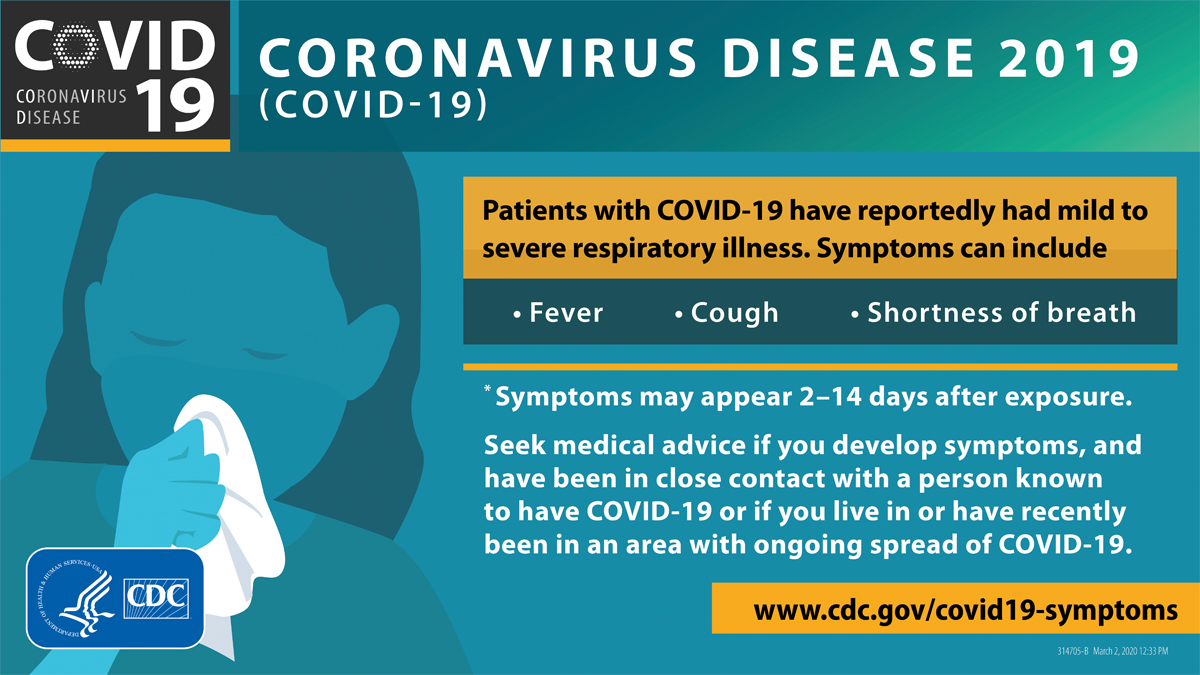 FAQ:


The CDC has an extensive list of frequently asked questions and information, including symptoms, what to do if you think you are infected, prevention for yourself and groups of people, travel information, high risk criteria, and more.